08-05-2010, 11:45 PM
jem001
Member


Posts: 33
Joined: Jul 2010
Reputation: 0
chipping paint
I bought a 2003 Tiburon at Frank Hyundai. I complained about the chipping paint on my front bumper and the hood of the car. I told them it might be a factory defect. It says in the book that they have a 3-year, 36,000-mile warranty on the paint. They told me it's normal because I might be hitting rocks on the freeway and they said its not covered by warranty. I have a 1990 Toyota Supra, been driving for 4 years now and not even a single chipped paint on it!
08-08-2010, 06:13 PM
(This post was last modified: 08-08-2010 06:21 PM by way2old.)
way2old
Administrator


Posts: 902
Joined: Feb 2007
Reputation: 0
RE: chipping paint
A seven year old car will not have a warranty on paint. It is possibly caused by rock chips or debris from the road. Sorry. From the posts I have seen from you, it seems you want us to say it is OK for you to complain to dealers for you not checking a vehicle before buying it. We are not going to give you any thing that has any legal issues to it. I have noticed the other moderators have given you plenty of chances to use the forum as designed. Please use it for repair questions or useful information for other posters. I do not have the patience the others have.
---
Being way2old is why I need help from younger minds.

Visit here to see our surplus vehicles.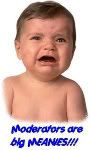 User(s) browsing this thread: 1 Guest(s)