04-21-2007, 08:06 AM
timbakersr
Junior Member


Posts: 1
Joined: Apr 2007
Reputation: 0
problem with brakes
I have a 2002 tacoma prerunner with 16 inch wheels I have put new rotors on 3 times and everytime after a couple thousand miles the brake pedal vibrates, I have bought the cheap all the way up to the expensive rotors. Do I need to just go buy Toyota's. I don't pull anything and I drive very conservativly. The OEM's never did this.
04-21-2007, 10:26 PM
way2old
Administrator


Posts: 902
Joined: Feb 2007
Reputation: 0
RE: problem with brakes
Make sure the mounting area of the hub is clean. If there is rust or debris there, it can cause premature rotor failure.
---
Being way2old is why I need help from younger minds.

Visit here to see our surplus vehicles.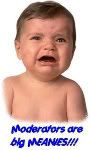 User(s) browsing this thread: 1 Guest(s)