2005 MPV Engine sqeak and screech
10-26-2012, 07:42 PM
2005 MPV Engine sqeak and screech
Hi all,
I have an 2005 MPV and I am unfamiliar with this noise and I need your help!
http://youtu.be/OCmqe0fKztI
As you'll see in the video, the squeaking and screeching are not tied to the serpentine belt. When I replaced the harmonic balancer I did not replace the oil seal because there was no oil present and it looked to be in good repair, so I really don't think it's that. But of course now I'm second guessing that assumption.
I'm really hoping someone here recognizes the sound. Please tell me what's wrong with my pretty van!
Cheerio,
-Forest
10-26-2012, 07:56 PM
way2old
Administrator


Posts: 911
Joined: Feb 2007
Reputation: 0
RE: 2005 MPV Engine sqeak and screech
Posted reply in Ford area.
---
Being way2old is why I need help from younger minds.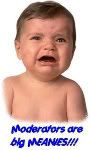 User(s) browsing this thread: 1 Guest(s)