Problem with powersteering fluid
06-15-2008, 12:11 AM
armcorsino
Posting Freak


Posts: 120
Joined: Mar 2007
Reputation: 0
Problem with powersteering fluid
I have a problem with the powersteering fluid. Everytime I fill up with powersteering fluid in the reservoir, it's drained to an empty reservoir. There is a leak coming from under the car. What is the problem do you think wrong with it?
06-15-2008, 06:12 PM
way2old
Administrator


Posts: 902
Joined: Feb 2007
Reputation: 0
RE: Problem with powersteering fluid
I thinkthere is a leak in the power steering system. You have the vehicle there. Look to see where the leak is and repair the leak.
---
Being way2old is why I need help from younger minds.

Visit here to see our surplus vehicles.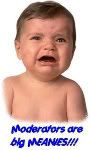 User(s) browsing this thread: 1 Guest(s)